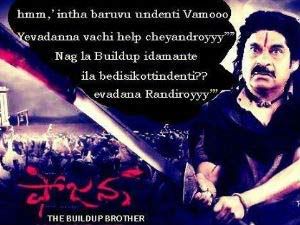 These days users know that when ever a new movie is going to release then the movie poster is morphed with comedian Brahmanandam pictures. Brahmanandam morphed images are the talk of the industry these days and even some of the people waiting for Brahmanandam morphed photos also. These morphed images making laugh to every one.
Latest morphed image of Brahmanandam is with Nagarjuna Rajanna movie poster and named as 'Fojanna' and this image was posted in Facebook.
Rajamouli father Vijendra Varma is the director of Nagarjuna Rajanna movie and some of the action scenes are directed by Raja Mouli. This movie is made based on a historical point of Telangana. Nagarjuna Rajanna movie is going to release in December.