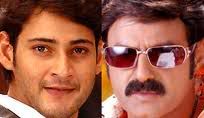 Users know that
Balakrishna Sri Rama Rajyam
audio is released on August 15
th
and the shooting of this movie is also being completed. All are expected that this movie will be released for
Dussera
but it wasn't
and after
Balayya fans
are expected that Sri Rama Rajyam movie will be released for
Deepavali
but this movie is not going to be released for Deepavali also. The producers are planning to release this movie in December.
Movie sources, Balayya fans are thinking why the movie is post poned these many times. The unit members are saying that some of the work is still pending for this movie.
But according to film nagar sources the main reason for the postponement of Balakrishna Sri Rama Rajyam movie is due to Prince Mahesh Babu. Due to the request of Mahesh Babu and Dookudu producers request this movie is postponed these many number of times. This is to break the Magadheera record. Mahesh Babu requested Balayya to postpone the movie for this reason. Magadheera has a record of 50 days in more centers. Mahesh Babu is planning to cross Magadheera record. If Balayya Sri Rama Rajyam movie is released then some of the centers will be decreased so this is the matter of Mahesh Babu request to BalaKrishna.