Monday, May 31, 2010
Sunday, May 30, 2010
Tuesday, May 25, 2010
Friday, May 21, 2010
Thursday, May 13, 2010
Babu mohan is one of the remarkable names in telugu cinema industry as a top telugu comedian. His memorable comedy roles with his close friend Kota Srinivasa Rao always results a remarkable comedy scene in most of the movies.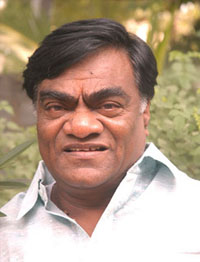 Babu mohan was born in Balapala, Warangal district Andhra Pradesh. He came from a middle class family and his father is a teacher. His full name is Kasturi Babu Mohan Rao. Right from his childhood he faced many problems due to his appearance and in spite of that, with his strong determination and hard work he got selected as a government employee in revenue department. He continued his comedian career and gave many remarkable comedy scenes. He is also the only comedian who got elected twice to Legislative Assembly of Andhra Pradesh and worked as one of the cabinet ministers.


He got married with Indra Vijaya Lakshmi and has two sons. His older son is Praveen kumar, who died in a road accident which is a big disappointment in his life. He introduced his younger son Uday Babu with a movie and planning movies with him.

Babu mohan film career begin with a movie 'ee prasnaku baduledi' with this performance in this movie he got an opportunity to work with director Kodi Rama Krishna in the movie 'Ahuthi' . A major break through came from the film 'Ankusham' and then the remarkable one and only comedy charchter in 'Mamagaru'. This is the movie earned him good name and fame and started his career as a comedian. The comedy between him and Kota Srinivasa Rao is hilarious and makes to enjoy a lot. The begger get up itself makes to laugh and the comedy scene between him and kota at the temple is remarkable.

After this movie, this pair became a hit pair and most of the producers create a special character for babu mohan and kota to make their movies a successful one. The comedy characters played by this pair in Mayalodu, Number one, Rajendrudu Gajendrudu are remarkable and most of the movies are in the direction of S.V. Krishna Reddy.

The comedy characters played by Babu Mohan with Brahmanandam always a remarkable one. The movies such hello brother, varasudu, allari alludu - daddy comedy between him and kota, appula apparao – as a contesting MLA and one of the remarkable character in Jamba Lakidi Pamba movie as a class teacher to all telugu comedians and this scene is one of the remarkable comedy scenes to enjoy telugu comedy.
Saturday, May 8, 2010
Sunday, May 2, 2010
Saturday, May 1, 2010